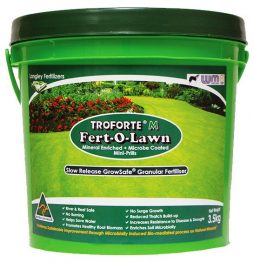 Troforte® M – Fert-O-Lawn
Troforte M contains up to 60 Natural minerals and up to 24 strains of beneficial soil microbes including fungi. Specialist lawn fertiliser blend suitable for all lawn types.
Improves drought resistance due to enhanced root development.
Increases earthworm activity which means better soil drainage and aeration.
One application lasts 5-6 months.
Efficient delivery of nutrient means better colour, better flowering, better fruiting.
Enhanced protection from disease.
After a few applications, It also means lower fertiliser rates & better results.
Please let us know if you would like to order this fertilizer with your turf order and be delivered together.